14,207-SF Office Space for Lease in Spring Lake
1030 Lillington Highway, Spring Lake, NC, 28303
For Lease, Office
PRICE: $8,003 per month
Square feet:
14,207
• Zoning:
C(P) - Planned Commercial District
• Traffic_count:
21000
• Broker:
Malinda Craven
Tel:
910-322-6535
Description:
Conveniently located on Lillington Highway (NC 210) just north of the NC 87 split off. Cedarwood Shopping Center offers local residents convenient shopping and retail services. Located in the Center of Spring Lake, North Carolina Cedarwood Shopping Center is less than five minutes away from Ft. Bragg. Just a few highlights of this shopping center are road front signage with a pylon sign, located at a signalized intersection, located within minutes of Fort Bragg. Lease rate is $6.76/sf.
Positioned between Fort Bragg and several single family and multi-family developments, Cedarwood can offer retail solutions for your everyday needs. The entire greater Fort Bragg area is experiencing significant population growth from increased troops stationed at Fort Bragg & Pope Air Force Bases creating opportunities for meeting consumer demand.
Over 14,000 square feet with large open spaces, 4 restrooms, space for two conference rooms, kitchen , server room, 9 or more private offices, plenty of storage, mechanical room, and generator.
LOCATED WITHIN A FEW MILES FROM FORT BRAGG, THIS PROPERTY IS STRATEGICALLY LOCATED ON NC 210 – IN SPRING LAKE.
Attachments:
Photos:
Featured Listings
3.48 Commercial Acres By The Yadkin Road Ft. Bragg Gate
For Sale, Land, Retail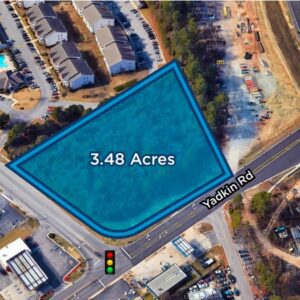 6505 & 6511 Yadkin Road, Fayetteville, NC
Price:
$1,140,000
MORE DETAILS »