43.9 Acres on Ramsey Street
3900 Ramsey Street, Fayetteville, NC, 28311
For Sale, Land, Retail
PRICE: $5,400,000
Acreage:
43.90
• Water:
PWC
• Sewer:
PWC
• Electricity:
PWC
• Zoning:
CC (Community Commercial) / CZ (Conditional Zoning)
• Frontage:
Approximately 1,250 on Ramsey
• Traffic_count:
34,000 vpd on Ramsey near the site
• Broker:
Franklin Johnson
Tel:
910.818.8400
Description:
PRICE REDUCED!!!  Located on the fast-growing corridor on Ramsey St. consisting of 43.9 acres. Zoned CC/CZ, the property has many permitted uses. 1,250 Feet of road frontage on Ramsey Street across from Lowes and 3 miles from 295. Ramsey Street provides convenient access to  295, which serves as a bypass around the western side of Fayetteville and experiences a traffic volume of 36,500 vehicles per day near the property (NCDOT 2018).
The property is situated among multiple retail sites that include Walmart, Lowes, Chick-Fil-A as well as many others. It is near Methodist University, which serves approximately 2,300 students, including 1,170 students who live on campus in the university's 19 residence halls. Additionally, it is just minutes from Fayetteville Technical Community College, the fourth largest community college in North Carolina, serving more than 41,000 students annually. It is also located just a few miles from Fort Bragg, the world's largest military base by population, with more than 77,000 military and civilian employees. Active duty personnel, military families, and the local consumer base of residents and college students would all help drive sales at this site.
Click here to view property flyer.
Photos:
Featured Listings
Restaurant Space for Lease with Indoor/ Outdoor Seating
For Lease, Retail
2153 Valleygate Drive, Suite 101, Fayetteville, NC
Price:
$3,500
Array
MORE DETAILS »
3.48 Commercial Acres By The Yadkin Road Ft. Bragg Gate
For Sale, Land, Retail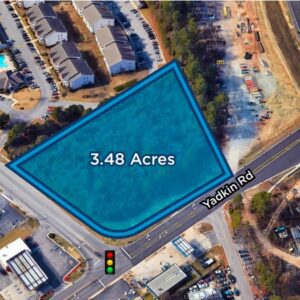 6505 & 6511 Yadkin Road, Fayetteville, NC
Price:
$1,140,000
MORE DETAILS »