Fisher Road & Lakewood Drive
5857 Fisher Road, Fayetteville, NC, 28304
For Sale, Land
PRICE: $4,500,000
Acreage:
25.91
• Water:
PWC
• Sewer:
PWC
• Electricity:
PWC
• Zoning:
LC/CZ
• Frontage:
1214
• Traffic_count:
12,000 VPD on Lakewood Drive
• Broker:
Franklin Johnson
Tel:
910.818.8400
Description:
25.91 Acres located at the corner of Fisher Road and Lakewood Road. Approximately 733 feet of road frontage on Fisher Road and 1,214 feet of frontage on Lakewood with 12,000 vehicles per day (NCDOT 2020). Located 2 miles from Harris Teeter on Lakewood Drive and Rockfish Road and 1 mile from Gates Four Golf and Country Club.
Attachments:
Click here to view property flyer.
Photos:
Featured Listings
3.48 Commercial Acres By The Yadkin Road Ft. Bragg Gate
For Sale, Land, Retail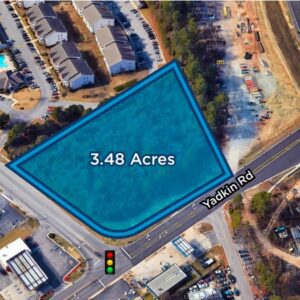 6505 & 6511 Yadkin Road, Fayetteville, NC
Price:
$1,140,000
MORE DETAILS »