735 N. Reilly Road Property ID Number: 9499-61-2511
735 N. Reilly Road, Fayetteville, NC, 28303
For Sale, Land
PRICE: $2,250,000
Acreage:
12.18
• Water:
On Site
• Sewer:
On Site
• Zoning:
LC - Limited Commercial & SF-10 Single Family Residential
• Frontage:
1,248 ft
• Traffic_count:
19,000 Vehicles Per Day (NCDOT 2017)
• Broker:
Franklin Johnson
Tel:
910.818.8400
Legal description:
12.18 ACRES CECIL B. HEAVNER RECOMBINATION; PLAT BOOK 128 PAGE 184 CUMBERLAND COUNTY REGISTRY
This is a 12.18 acre site that abuts Fort Bragg, the world's largest military base by population. It is less than a half mile from the Fort Bragg South Gate and from the future I-295. This section of I-295 is expected to open in the fall of 2019. It has 1,248 feet of frontage on N. Reilly Road with a traffic count of 19,000+ vehicles per day (NCDOT, 2017). This number is projected to increase with the opening of I-295. The property is also conveniently located near Cross Creek Mall, Walmart, Sam's Club and much more.
The property has water and sewer on site. It is zoned LC (Limited Commercial) and SF-10 (Single Family Residential). Currently the property is being used as multifamily, generating over $100,000 in income annually. The property can remain under its current use but it is the perfect site for redevelopment.
Featured Listings
Lot for Sale in Medical Park off Owen Drive
For Sale, Land, Office
1536 Owen Park Lane, Fayetteville, NC
Price:
$180,000
MORE DETAILS »
3.48 Commercial Acres By The Yadkin Road Ft. Bragg Gate
For Sale, Land, Retail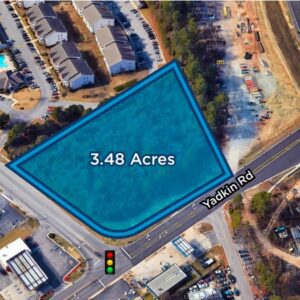 6505 & 6511 Yadkin Road, Fayetteville, NC
Price:
$1,140,000
MORE DETAILS »