Deno Hondros
I am a Fayetteville native, born and reared.   Both parents having immigrated from Greece to our great country, my sisters and I are the first generation of our family to be born in the states. As a young boy I began working with family in the food service industry, where I learned the value of a dollar, and developed a strong work ethic.  It is also where I first developed my passion in serving others. An entrepreneur by nature, I opened my first business with the help of my family right after graduating high school.  After four years of building the business I decided to sell it to pursue other ventures.
I earned my Associate's Degree from Fayetteville Tech. Always intrigued by commercial real estate and development, I often wondered what factors and criteria would make a certain location ideal for a specific business.  This led me to pursue a career in commercial real estate where I have been serving clients since January 4th, 1999.  This intricate knowledge of our local market, hard work and dedication coupled with his honesty, integrity, easy going personality and passion for service have paved the way for success.
Married to my lovely wife Liza, and together we have a son, James. We are personally invested in our local community, and have a desire to help make Fayetteville the best Fayetteville it can be.  We know Fayetteville, Fort Bragg, and our surrounding communities.  We are active volunteers and participants in many non-profits. Liza served on the City of Fayetteville Airport Commission, which helped guide recent renovations. With the chronic stormwater infrastructure issues, which were made painfully evident during recent hurricanes in our area, I chose to serve on the city's Storm Water Advisory Board (SWAB), where I currently serve as Vice Chair (former Chairman).
It is my pleasure to help guide you through your real estate endeavors. I was a church league, high school basketball coach for 8+ years. When I am not serving clients, I enjoy spending time with family, traveling, and sports.
Email: denohondros@gmail.com
Mobile: 910.802.0076
Featured Listings
Turn Key Spa/Salon or Office/Medical/ or Call Center Building For Sale in Downtown Fayetteville
Business, For Sale, Office
260 Robeson Street, Fayetteville, NC
Price:
$1,250,000
MORE DETAILS »
3.48 Commercial Acres By The Yadkin Road Ft. Bragg Gate
For Sale, Land, Retail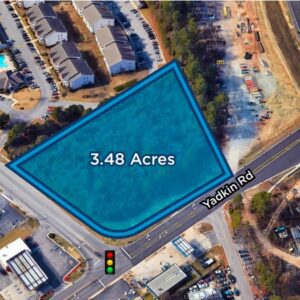 6505 & 6511 Yadkin Road, Fayetteville, NC
Price:
$1,140,000
MORE DETAILS »