Michael Paschal
Michael Paschal is a real estate Broker® and a General Certified Commercial Appraiser, who has spent his entire career in real estate. He is a lifelong Fayetteville native who graduated from Terry Sanford High School and Appalachian University with degrees in Business Management and Information Systems.
In 1985, he began as a real estate appraiser, and became a real estate Broker® in 1989. Over the past decades, he has been involved in all facets of real estate, to include sales, valuations, leasing, highest and best use analysis, construction, feasibility studies, timber and property management, consultations, and much more.
He has a first-hand working knowledge of most all types of real estate, and has completed work assignments in over 60 counties in North Carolina and South Carolina. This also includes in depth analysis of fee simple and leased fee estates, assemblage strategies, and the effects that condemnation and related easements can have on an individual's property.
Michael is married to Kim Blanton Paschal and they have three children; Jackson, Annie and Ethan. They are members of Highland Presbyterian Church. Michael has had the privilege of serving on several local boards, to include Bible Alive Ministries, Operation Bandanas, and Youth for Christ.
Michael continues to oversee and operate Paschal Appraisals, Inc. which he founded in 1996, but his passion is putting deals together. His background in real estate valuation has been a perfect complement to being a well-informed broker, and helps to ensure that his clients make the best decisions possible. Feel free to give him a confidential call to discuss your next investment decision.
Featured Listings
4.78 Commercial Acres on NC Hwy 24/87
For Sale, Land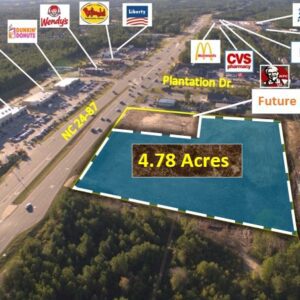 Highway 24/87, Cameron, NC
Price:
$1,500,000
MORE DETAILS »