Tom Lloyd
Tom Lloyd was raised in rural south Jersey but has been a resident of Fayetteville since 1980. Upon graduating from high school he wrestled at Virginia Tech where he graduated with a BA Degree in Geography. He then received an MA Degree from Appalachian State University in Geography and Planning with a minor in Statistics. He has completed several graduate courses at Duke University and successfully completed 3 courses at Harvard University's Program on Negotiation.
For the past 21 years Tom has taught Geography at Campbell University. During this time, he has served as Deputy Director at Fayetteville Area Economic Development Corporation for 6 years and Planning and Inspections Director for Cumberland County for 15 years. He has also served as a Location Analyst for Sprint, as well as Manager of the Salvation Army Homeless Shelter. He spent 15 years on the Fayetteville Area MPO Technical Coordinating Committee (regional transportation long range planning).
Tom was a mini wrestling coach for Fayetteville Parks and Recreation for 7 years. He is a member of the Bragg Mutual Federal Credit Union Board of Directions.
Email: tom@franklinjohnsoncommercial.com
Cell: 910-574-3177
Featured Listings
4.78 Commercial Acres on NC Hwy 24/87
For Sale, Land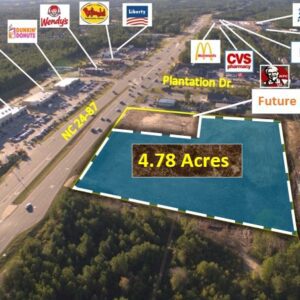 Highway 24/87, Cameron, NC
Price:
$1,500,000
MORE DETAILS »