Approximately 12,000+ Square Foot Location in Historic Downtown Fayetteville Property ID Number: 0437-53-9975, 0437-64-0039
127 Hay Street, Fayetteville, NC, 28301
For Sale, Office, Retail
PRICE: $1,100,000
Acreage:
0.18
• Square feet:
12,000
• Water:
PWC
• Sewer:
PWC
• Gas:
None
• Electricity:
PWC
• Zoning:
DT - Downtown
• Frontage:
24
• Traffic_count:
8400
• Broker:
Franklin Johnson
Tel:
910-864-2626
Legal description:
WHSE 136 N/S Franklin St & STORE 127 S/S Hay St
Approximately 12,000 square foot, two story building in the heart of historic downtown Fayetteville. Entrances on both Hay Street and Franklin Street plus a 9 car parking lot make this a very special and unique property. Perfect for office or retail, this building currently has a large number of offices but could easily be renovated for a more open floor plan. Easy walk to restaurants, Segra Stadium, shopping, museums, and breweries. Downtown Fayetteville has seen millions of dollars in revitalization and there are plans for millions more in hotels, apartments, townhouses and office space. See Downtown Urban Design plan website below. Now is the time to buy in downtown Fayetteville! Fayetteville Downtown Urban Design Plan: https://visitdowntownfayetteville.com/wp-content/uploads/2019/03/Downtown-Urban-Design-Plan-20190102.pdf
Click here to view property flyer.
Featured Listings
Restaurant Space for Lease with Indoor/ Outdoor Seating
For Lease, Retail
2153 Valleygate Drive, Suite 101, Fayetteville, NC
Price:
$3,300
Array
MORE DETAILS »
3.48 Commercial Acres By The Yadkin Road Ft. Bragg Gate
For Sale, Land, Retail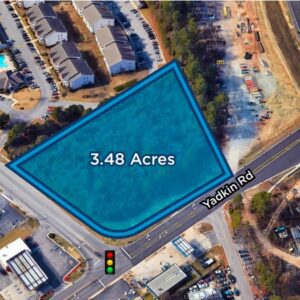 6505 & 6511 Yadkin Road, Fayetteville, NC
Price:
$1,140,000
MORE DETAILS »